We always struggle to organize a party. We often doubt on whether our guests are going to like the games prepared, the food, the music or the decoration.
Here are some great and fun ideas and games for your party:
Games:
This is a fun game to give the guests a little present to thank them for coming. You can make different decorative sacs with different things inside them: Candy, bracelets, nail polish, stickers, thank you cards, cool pencils… Anything you want! Then, put each sac inside an ugly plastic bag and cover them in a way that no one can see what is inside. Next put all the gifts together in a big table. Take two decks of cards, it is better with the standard cards, but it also works with the UNO cards. Distribute all of the cards in the first deck to the guest and keep the other deck to yourself. Everyone's packet of cards should be facing down. Lift the first card, show it to the guests and tell them to lift their first card. The person who has the same card as you, gets to pick the first gift from the table. The game proceeds until everyone has got their gift. The next person that gets the same card as you can switch gifts with whoever he/she wants. And finally, everyone can open their gifts!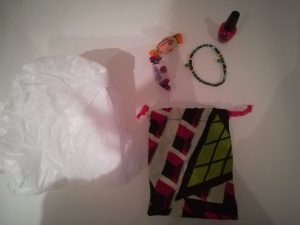 Would you rather & Time's up:
Would you rather questions are very fun when you have several questions planned out. To make sure you've got enough, collect questions out from any website and print them out. Then, cut them in pieces, fold them in four and put them inside a glass jar.
For time is up, you can do the same thing but with names of famous things like celebrities, movies, books, authors, actors… (make sure everyone knows the famous things). Here are the rules to play Time's up: Divide the guests into 3 or 2 teams. Provide a number of famous things to imitate. The first round, they have to describe it. The second round, the have to describe with only one word. The third and final round, they have to act it out. After each round, you count the number of papers you got right and the one with most papers has won the round.
Decoration:
Rounded paper lamps are the best for a birthday party specially if they are of different colors. They give a cheerful atmosphere whether they are lit up or not.
Selfies can become more fun when using mustaches, bows, fancy glasses and hats right? You can put a fancy fabric or tablecloth in a wall and put some sticks with fancy drawings of accessories in a cup for people to take funny selfies. You can also provide hats, wigs or masks.
Food:
This snack is healthy as well as very refreshing specially when living in a country like Senegal. Pick many different types of fruit like pineapples, mango, strawberries, oranges and watermelon. Keep them in the fridge for a good amount of time so they are cooler. Then, take different pieces and place them through a wood stick. Ready to go!
This lunch is easy and individual. Lather than having a big pizza for everyone, you can make mini pizzas so everyone has it's own. You can even make them different for people's taste. Some might not like olives in the pizza, others might like a lot of mushrooms, others might not want pork… This is a meal to please everyone!
Please, answer in the comment section some of this questions or make your own post about them, but remember to come back to leave your URL so I can visit your post:
What would be your ideal party?
What traditional games does your family play in parties?
What is the only thing you would extremely need to organize a party? (it can be fabric, drinks, games… )